FRANK M. JORDAN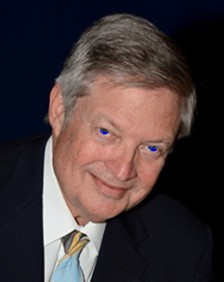 Frank M. Jordan, MBA, is a Nationally recognized Health Researcher (5 U.S. Patents issued or in process),
Business Executive, Civil Servant, Speaker, Author and National Media Personality
Frank Jordan's Healthy, Wealthy and Wise Commentaries (350+ Archived Nationally Broadcast FJ' Commentaries) Plus
Frank Jordan's YouTube Videos on Health and Related Subjects (55+ HD Videos - 3 minutes or less)
Frank and Connie Jordan's Health Inspiration Ministry with Health Bible Verses plus Frank's Inspirational Videos and Audio Tapes
Frank Jordan has now Nationally broadcast more than 4,250 Radio and 1,000 Television Shows, with 500+ Newspaper Columns during Frank's Media Career over Decades!
Frank Jordan' HWW Commentaries are now available 24/7 and on Mobile Devices Podcasts at https://soundcloud.com/frankjordan-nsc
Frank Jordan is the Executive Producer and Host of the "Frank Jordan's Healthy, Wealthy and Wise Commentaries" heard Nationwide each Weekday at 4:26 pm EST / 1:26 pm PAC on Sirius/XM Ch 131 (following Pastor Rick Warren's "Daily Hope" show) and sponsored by the Nutritional Scientific Corporation (NSC) as a production of the Hope Inspiration Ministry (HIM). Learn more at the HWW Show website, www.hwwshow.com. Join Frank additionally on www.twitter.com/siriusxmhealth.
On National TV each weekday, Frank Jordan also joins his friend Doug Kaufmann on Doug's "Know the Cause" Show, seen on Dish, DirecTV, CTN and hundreds of cable systems and independent stations throughout the nation. Click on Kaufmann TV for where and when Know the Cause is broadcast each weekday nationally and www.hwwshow.com for upcoming appearances of Frank Jordan on "Know the Cause" with Doug Kaufmann, in addition to a "Daily Health Minute" on the Kaufmann' Show..
Frank previously hosted the Healthy, Wealthy and Wise TV Show televised nationally, with Frank shown at his desk on the HWW TV Show set below left. Jordan is also Editor and Contributor to "Immunition Reports" representing multiple health subjects and also author of the Newspaper column, "Frankly Speaking" published weekly in "The Gazette." (Several of the articles out of hundreds are indexed below). Check out Frank's recent You Tube videos on more than fifty various health topics such as "What is beta glucan?", "Micronization of MG Beta Glucan" and NSC products by clicking on http://www.nsc24.com/videos.html . (Videos are about 3 minutes each)
Jordan, in addition to his extensive media career, is an author, speaker, co-inventor with multiple patents issued (U.S. Patent 6,476,003) or pending and CEO/Research Director of Nutritional Scientific Corporation (NSC). Jordan is also Co-Founder, with his wife Connie, of the Hope Inspiration Ministry and an ordained Minister. Family is a central focus, with Frank seen below with wife of 27 years, Connie. Frank says, "Connie is not only my wife, but my 'best friend' and an inspiration in all aspects of my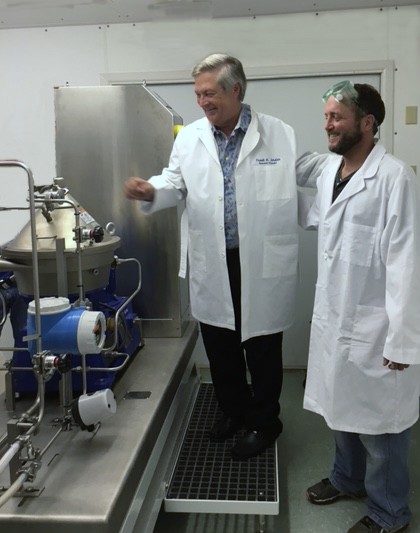 life." There three children and five grand children make life both fun and a challenge!
Jordan brings a keen wit together with a vast knowledge in health issues to enlighten and encourage HWW viewers and listeners in health matters. Emotional about the flaws in our health system and all-to-common errors with patients by the system, Frank Jordan's goal is for everyone he knows to live a quality, not just quantity of life.
Jordan's media career, in addition to HWW, includes extensive network radio and TV programs discussing health issues and the immune system. Jordan's book, "FRANKLY SPEAKING - Volume I" contains 50+ health topics Frank first presented during the "Frankly Speaking" segment of his nationally televised Healthy, Wealthy and Wise television show. Other books by Frank Jordan include "Beta GluCAN! Immunition to Win Your Body War," "Lessons in Life and Faith" (no longer available) and "Holiday Treasures." Again, Frank also has scripted, voiced and presented more than fifty YouTube videos primarily on health, but also including multiple spiritual issues.

Frank Jordan' TV, Radio, Books and More!
Frank Jordan has been Host of Healthy, Wealthy and Wise since the popular Radio health show began in 1999, with not only 3,500+ radio shows broadcast, but also 1.000+ television shows aired, plus numerous appearances on NBC, ABC, CBS, TBS, CTN and Fox Affiliates. As stated, Frank currently appears weekdays on national TV on Dish, DirecTV, CTN and Sky Angel Satellite Systems on "Know the Cause." Frank began his radio career at age 12 with his own weekly show with three friends amazingly more than 60 years ago in Cleveland, Texas. In the business arena, Frank Jordan was the founder of Nutritional Scientific Corporation ( NSC ) and serves as CEO/Research Director for the corporation producing health products for the immune response both nationally and internationally. for decades.
.Join Frank on national Radio, the Web or each week on national TV as this passionate country gentleman emphasizes you are not alone and you have an extended family that truly is concerned about you and your health concerns.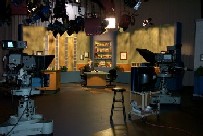 Jordan is a recognized expert on the immune system and nutritional supplements associated with the immune response and well-informed in natural health and nutrition.
Frank Jordan received both undergraduate and post-graduate degrees from the University of Texas in Austin, but considers "life" as the best teacher of all-to-rare common sense he shares each weekday with his vast media audience nationally. Loving music also, Frank was a member of the TriCounts rock & roll band in the 50-60's era, playing drums in the popular regional band.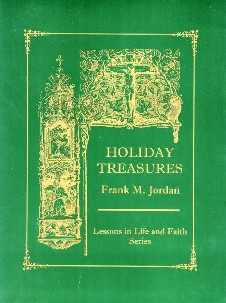 He still enjoys turning the music loud and playing the drum set he cherishes.
Frank's book, "Holiday Treasures," is a spiritually oriented collection of essays written by Jordan, based on personal and historical research to both inform and explain our Holiday traditions and events; including Christmas, New Years, Valentines Day, Easter, Mother's Day, Independence Day, Thanksgiving and even Birthdays. Order this compassionate and informative book with beautiful graphics by artisans under the direction of Martin Luther in the 1500's, written from a Christian perspective, now by calling 888-541-3997 or from the HWW Catalog. A perfect gift for any Holiday or any day throughout the year.
Frank, as an ordained minister, additionally formed the Hope Inspiration Ministry (H I M) with his wife Connie, to help others help themselves physically, emotionally and spiritually. The website http://www.healthinspirationministry.com has helped thousands with Bible verses and spiritual aids in confronting daily health challenges. While having no permanent church pulpit, Frank often preaches in various church venues on request. The ministry, according to Frank and Connie, is a way for them to give back and witness to others and is a non-contributory ministry.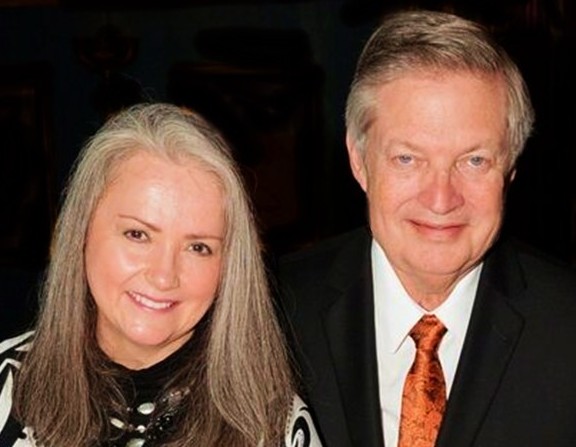 Frank and wife, Connie, are native Texans who live in Liberty, Texas near Houston where he has served as Chairman of the Board of Trustees of his Church, served as a City Councilman and is an avid University of Texas Ex with both BBA and MBA degrees (both in 5 years while working 40 hours a week). Frank enjoys traveling with Connie, family and friends, while writing, speaking, recording audio and video and serving in public service. One of his greatest pleasures is the opportunity to meet and talk with the legion of Healthy, Wealthy and Wise and Commentary listeners and TV viewers.
Frank sums it up this way, "You are a part of my family if you watch our videos and hear my Healthy, Wealthy and Wise Commentaries where we share our health challenges together. We daily express our concerns, health information, emotions, needs and hopes. I want to give you what you need to have hope to cope with health and life issues. Our extended family is an integral part of our daily lives and Connie and I welcome you with open arms." Become a part of the HWW family of viewers and listeners as you join with your new best friend - Frank Jordan!
Frank speaks frequently as a banquet or meeting headliner, pulpit preacher, health symposium expert and more!
For Information on Frank Jordan Speaking Engagements or to Discuss an Event featuring or including Frank Jordan, call 888-541-3997 or email Frank at www.nsc24.com.
Frank Jordan speaking at a Health Symposium in Lake Charles, Louisiana to an estimated 1,000 enthusiastic attendees and to Doug Kaufmann on the set of Doug's "Know the Cause" on which Frank appears daily.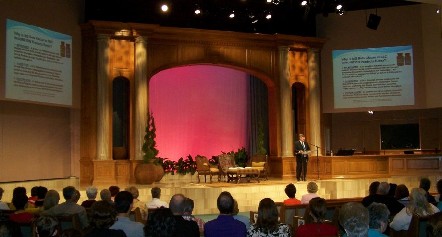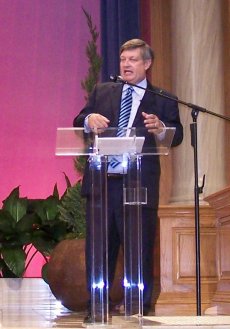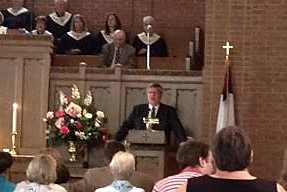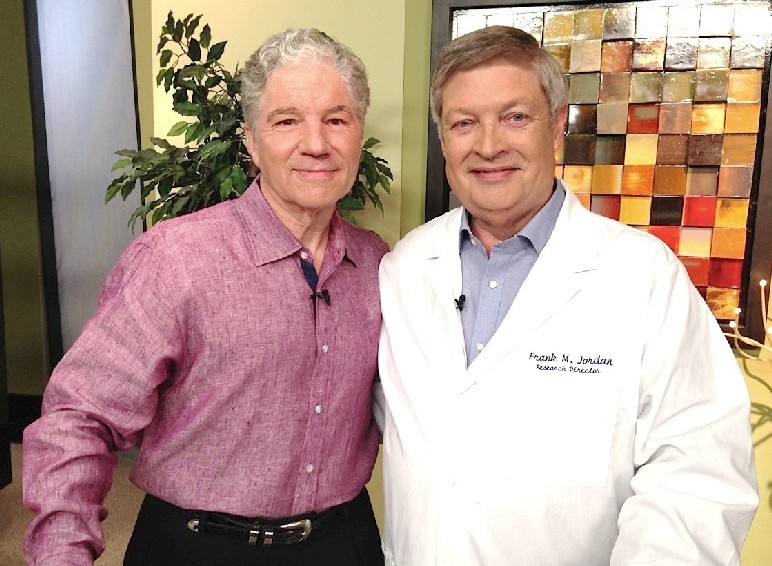 Chemotherapy and Radiation in Cancer
Cancer cells lose their ability to be controlled in natural growth and reproduction by the body and multiply very fast, often migrating to other parts of the body in addition to the original site. Normal cells know when to stop growing, particularly in repair situations, but cancer cells are different from normal cells in ignoring the body's signals to stop growth.
The cancer cells become erratic and keep multiplying rapidly and, if not controlled or killed, the cancer cells disrupt normal and essential cell functions, crowd out normal tissue of organs and eventually, if not stopped, cause organ failure resulting in death. Cancer cells mimic healthy cells and unfortunately often go unrecognized by immune cells defending our bodies. The currently legal treatments for cancer are chemotherapy, radiation and surgery.
Radiation treatments for cancer, or radiotherapy, involve the use of radioactivity including ionizing radiation from Gamma-rays, X-Rays or Cobalt-60 as killing agents in therapy. Chemotherapy involves chemical agents and drugs that attempt to disrupt cancer cell growth and hopefully kill cancer cells.
Surgery: Surgery seeks to remove the cancer cells and tumors through cutting into the body in a cancer tumor location and removing a tumor(s); thus killing the cancer.
Chemotherapy: Did you know Chemotherapy was first developed as a U.S. Army poison gas program during World War II? Thus, chemo attempts to poison and kill cancer cells and tumors. Chemotherapy attempts to interrupt the cancer progression in the body. Normal cells know when to stop growing, but cancer cells ignore the body's signals to stop growth. If not controlled or killed, the cancer cells disrupt normal cell functions including natural cell growth and multiplication and replacement of normal tissue of organs.
Chemo is also utilized to shrink the cancer tumor size prior to surgery, with an objective to make removal less invasive and more effective. Chemotherapy is the sanctioned therapy when cancer has spread beyond where it began or metastasized.
Success rates for chemotherapy have been highest in ovarian, testicular and Duke's C cancers. Are you aware the medical profession considers cancer cured if a patient is cancer-free for 5 years after treatment; even if cancer reoccurs in year 6?
Radiation: Approximately 60% of cancer patients receive radiation in some form either alone or in combination with chemotherapy. Radiation uses radioactivity aimed at killing the malignant cells and tissues involved in cancer. Radiation can in fact damage or kill cancer cells, but radiation can also cause secondary cancers after the primary cancer has been treated; thus being classified as a carcinogen defined as a cancer-causing agent.
Are there ways to make radiation more effective against cancer and less destructive to white cells and red cells produced by the bone marrow that are essential for oxygen and nutrient delivery in the body and thus energy itself?
A study by D.J. Allendorf and associates presented at the Center for Mind-Body Medicine Comprehensive Care Symposium in 2003 reported, "Oral treatment with whole glucan particles may be a useful therapeutic intervention following radiation exposure to accelerate myeloid [bone marrow] recovery and increase survival after radiation exposure."
In addition to being a carcinogen, radiation in many instances involves free radicals responsible for cancer-causing mutations to the body's DNA. Free radicals are in actuality molecules that have lost an electron and are therefore "unpaired," similar to a sparking wire uncontrolled in the body.
Potential Side Effects of Chemotherapy and Radiation:
Chemo has risks. Chemo suppresses the immune response while studies indicate Chemo patients are 14 times more likely to develop leukemia and 6 times more likely to develop cancer of the bones, joints and soft tissue.
Most forms of chemotherapy and/or radiation also cause Vitamin A depletion and interfere with intestinal Vitamin K absorption, needed for proper blood density. Dermatitis on the skin is common, while red blood cell levels needed for energy are almost always lowered after chemotherapy. Surgery is invasive increasing the risks of infections and MRSA.
Some additional side effects of chemotherapy and/or radiation may include: nausea and/or vomiting; constipation; appetite loss; hair loss; low red blood cell count (anemia) and a weakened immune system with increased susceptibility to infection. Also fatigue; easy bruising and/or bleeding; mouth sores; persistent numbness and tingling sensation in the hands and/or feet, or weakness due to nerve damage. Plus kidney damage; harm to the heart muscle; infertility and menstrual period cessation. The probability of resolving cancer and tumor issues must be greater and more important that the almost certain side effects to be encountered.
NSC Chemo / Radiation Package
The NSC Chemo/Radiation Package includes Extra Strength NSC-100 60 ct MG Beta Glucan plus NSC IMMUNITION CoQ10 with MG Beta Glucan. Beta glucan has extensive scientific research related to chemotherapy and radiation reported in www.betaglucan.org including:
D, Kondrotaset al; 2007. Quote: "As a immunostimulating agent, which acts through the activation of macrophages and NK cell cytotoxicity, beta-glucan can inhibit tumor growth...reduce tumor proliferation, prevent tumor metastasis. ...beta-Glucan as an adjuvant to cancer chemotherapy and radiotherapy demonstrated the positive role in the restoration of hematopiesis [red blood cells-oxygen-energy] following bone marrow injury.
The NSC Chemo/Radiation Package also contains NSC IMMUNITION CoQ10 which uniquely contains MG Beta Glucan. CoEnzyme Q10 has been demonstrated to increase cellular energy to resolve fatigue; neutralize cell damaging free radicals, including those created by radiation, while nutritionally promoting brain health and mental clarity; the latter often an issue of brain fatigue caused by chemotherapy.
The NSC Chemo/Radiation Package is priced at a deep 44% discount from retail for the two products at $159.90 NSC Chemo/Radiation Package Price $89.95. You save $69.95!
If you or someone for whom you care is involved in a chemotherapy and/or radiation program or surgery, take advantage now at this low discounted price for the NSC Chemo/Radiation Package to nutritionally help minimize unwanted side effects from the chemicals and radiation often associated with chemotherapy and radiation treatments.
Recent and Scheduled Appearances:
Frank speaks with humor and a message often at functions throughout the United States, including at a Texas Municipal League Regional Banquet and with Dr. John Young MD and Mark Schauss in a Largo, Florida health symposium.
Frank Jordan has appeared at many Churches, including the New Life Christian Church' in San Antonio, Texas with Pastor LaSalle Vaughn and his wife Portia and the First United Methodist Church of Liberty, TX (at left).
-------------------------------------------------------------------------------------------------------

Frank Jordan
National and International TV, Radio and Web Health Talk Host in all 50 U.S. States and Canada each Weekday

Author of Nationally Distributed Books involving Physical, Emotional and Spiritual Health

U. S. Federal Court Recognized Expert in Beta Glucan and the Immune System

National Speaker and Teacher in Health Issues with a Post Graduate Degree from The University of Texas at Austin

Scientific Researcher in association with Internationally Recognized Immunologists and Scientists

Co-Founder and Director of the national Hope Inspiration Ministry (HIM - www.hopeinspirationministry.com) . Ordained Minister

U.S. Patent Co-Inventor in Immune System Science, with additional U.S. and Foreign Patents in Process

Civic including HGAC Economic Development Board Director, Texas Rural Grant Review Boards & more

Charity Work including American Heart Assc. prior State Director-TX, Sunshine Kids (cancer) past Director, & more
Frank Jordan's Healthy, Wealthy and Wise Commentaries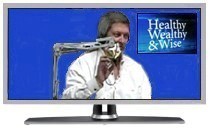 Weekdays Nationally on Sirius/XM Satellite Radio Ch 131 @ 4:26 PM EST/ 3:36 PM Central/ 1:36 PM Pacific on the Family Talk channel
(Following Pastor Rick Warren's "Daily Hope" Show on Sirius/XM Family Talk Ch 131)
To select from an extensive list of FJ Healthy, Wealthy and Wise Commentaries, Click on Commentaries now:
Frank Jordan's YouTube Videos on Various Health Subjects (2:50 - 3:10 minutes)
Click on: Frank Jordan' Videos  (Scroll down to see listing) and Inspirational Topics (2:50 - 3:10 minutes)
"Holyistic Health - Body, Mind and Spirit" by clicking on: